Originally published in The Huffington Post at this link – http://www.huffingtonpost.com/carol-brailey/how-to-reveal-your-best-white-for-your-wedding-dress_b_6905128.html
The summer wedding season is fast approaching. If you are one of the many brides who will be getting married this upcoming summer and are still seeking your optimal wedding dress — do you know which shade of white gives off your best?
Your wedding dress is a central aspect to your wedding. If you choose a dress in a shade of white that is out of alignment with your optimal coloring, you could be distracting others from seeing your personal power. The result you could look dull, worn, outdated, odd, unbalanced, and even older on your wedding day and in your photos and videos for years to come. Whereas, wearing your best white will make your eyes sparkle and give you a vibrant, healthier, harmonious and even younger look.
There are several variations of white to choose from including:
– Ice White
– Ivory
– Cream
– Soft White
– Eggshell
– Oyster
– Antique
Here are three easy and fun steps to reveal which "wedding-white" to choose to give off your best.
1. Determine Your Skin Undertone. Your skin undertone is the hue that shows through the surface of your skin. It is best seen in natural lighting. Your skin undertone can either be cool, warm or neutral.
A common do-it-yourself way to reveal your skin's undertone is called a vein test.
If your veins look primarily blue, you lean towards a cool undertone. If they look primarily green, you lean towards a warm undertone.
[If you have a mixture of blue and green veins, you could be neutral and the vein test may be a little difficult to tell whether you lean more cool or lean more warm].
2. Determine Your Primary Color Season. Is your primary color season winter, summer, spring or autumn? Use the chart below as a reference. You may want to consider placing a picture of your face (push hair away from face) in natural daylight beside each color strip.
If you determined you lean cool in step #1: Compare the winter and summer color strips below with you.
If you determined you lean warm in step #1: Compare the spring and autumn color strips below with you.
Ask yourself which color strip is more aligned with your coloring? Imagine yourself wearing the colors in the strip — do they align with you, overpower you or wash you out? You want to choose the strip that aligns with your coloring.
If you are having trouble deciding, perhaps your natural hair color may provide some clues. Below are typical natural hair colors by primary color season.
Winter: black, brown-black, blue-gray or silver-gray.
Summer: ash blonde, taupe, flaxen blonde, cool ash brown, blue-gray, silver-gray
Spring: strawberry blonde, golden blonde, golden brown, creamy white
Autumn: red, auburn, copper, warm brown, red-brown, dark brown, golden gray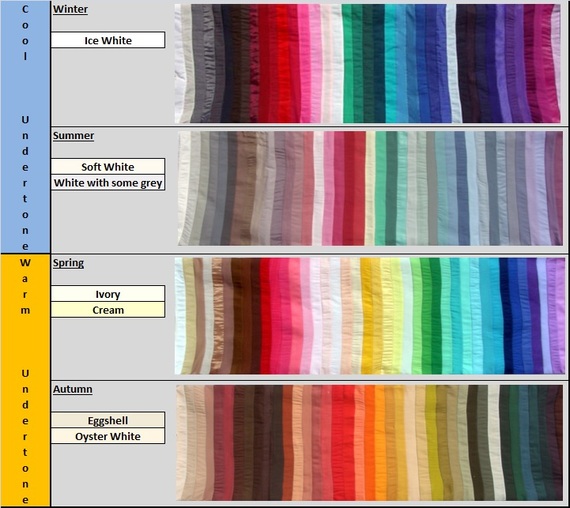 3. Identify the "wedding-white" that aligns with you.
Once you've decided on your primary color season (in step #2), reference the recommended white for your primary season in the second column of the above chart.
The above three steps will help to align your "wedding-white" with your undertone and primary color season and you will therefore more effectively magnify your personal power on your big wedding day.
To ensure accuracy on the three above steps (sometimes we don't see ourselves clearly) and incorporate an additional step to confirm your flow of color season, I recommend having a color analysis completed on yourself / working with a professional trained in color analysis. Many individuals do not fit perfectly into the four seasons (as per above) so additional palettes that flow between seasons are analyzed to determine flow of color season. There are online methods and in-person methods available.
Your wedding dress is an essential and central part of your wedding. Before you choose your "wedding-white" know your skin undertone, color season and flow of color season. By doing so, you will ensure you look vibrant on your wedding day and for years to come in your memorable photos and videos.
I hope this article inspires you to wear your authenticity!
Carol Brailey is an Image Consultant who specializes in color analysis. More of her color blogs can be found at carolbrailey.com and virtualcoloranalysis.com.