Originally published in The Huffington Post at this link – http://www.huffingtonpost.com/carol-brailey/move-over-mandigan-its-ti_b_6549828.html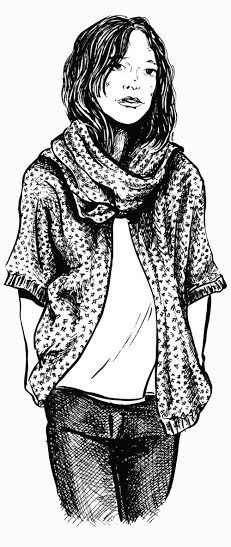 Illustration by Randal Gordy Lee
The cardigan. Defined by Wikipedia as "a type of knitted garment that has an open front. Commonly cardigans have buttons — A more modern version of the garment has no buttons and hangs open by design".
Cardigans were first introduced to us in the mid-1800's by James Brudenell, 7th Earl of Cardigan. Worn by men at the time, they were a take on the knitted wool waistcoat. In more recent times, you may recall watching Mr. Rogers change into his cardigan at the beginning of each episode of his popular children's television program.
The male version of the cardigan is sometimes referred to these days as a mandigan. Cardigan, mandigan whatever you choose to call this garment type – they are a must-have staple piece for every woman.
Timeless, versatile, fashionable and practical – if you're a woman who doesn't own one (or a few in different colors for that matter), it's about time you did.
Here's 5 reasons why every woman should have at least one cardigan in their wardrobe.
1. They can be worn year-round. Spring, Summer, Fall, Winter – cardigans work for all seasons. From being the perfect complement to a strapless or spaghetti-strap dress on a cooler summer evening to a top layer on a frigid winter day – a cardigan will keep you comfortable in multiple weather conditions.
2. They work well for and maximize every female body silhouette. No matter what body silhouette you are, a cardigan will work well for you. Below are my recommendations on how to wear a cardigan for various body silhouettes –
• Hourglass, Standard – wear them fitted
• Teardrop, H – wear them open
• O – wear them more flowing – the longer ones that do not have buttons and drape open work very well
• V, Savonius – high neckline, wear them with first few buttons closed
3. It hides areas you may feel uncomfortable showing. If you are shy about showing off an area of your body, a cardigan is a great option to cover this area up. Including – arms, cleavage, muffin top, back acne etc.
4. They can help to dress up or down an outfit. Have an outfit that you need to dress up a bit for the office or an evening out? A perfect option is to throw a cardigan over a sleeveless blouse or dress and perhaps add on a brooch, belt or flower to embellish. It also works the other way – have an outfit that's a bit too dressy for where you're going? A plain cardigan will be a great option to dress it down.
5. Helps carry over other items in your wardrobe into other seasons. Example — you have a sleeveless top you love, you can extend the wear of it into winter months by throwing on a cardigan.
Now you have 5 reasons why every women should own at least one cardigan.
When selecting a cardigan, you will want to make sure of 2 things – 1) it maximizes your body silhouette and 2) the color is in your seasonal color palette. There is no need to look at items when shopping that are not in your color palette. You will find this will quickly eliminate items you should not be entertaining. (Note: If you do not know your seasonal color palette, I highly recommend you have a color analysis consultation. Once you know the colors that work best for you, it makes shopping so much more efficient, fun and rewarding).
Don't own a cardigan? What are you waiting for?
I hope this blog inspires you to wear your authenticity!
Carol Brailey is an Image Consultant who specializes in color analysis. More of her image blogs can be found at carolbrailey.com.
Randal Gordy Lee is an illustrator and designer living in Toronto, Canada. More of his work can be seen at Toronto Art Revival.